Pradeep Mané
APW Poet Blog
November, 2002
---
Pradeep Mané
Pradeep Mané's pet nickname is Deepu and he stays in suburban Bombay. His wife works in a bank and his daughter is in the 2nd grade. He likes to read/write poetry, cook food and listen to music.
He has a small 1.5 acre farm where he goes on weekends to unwind (Bombay being a stressful city). He wrote his first poem at the age of 10, the rhyming type. Age 13 got inspired by R.N. Tagore and today reads R.S.Thomas, R. M. Rilke, Anne Sexton, J. L. Borges, P. Neruda, A. Kholatkar and C. Sandburg but is not restricted to them.
He tries to cook all types of food but most times he finds it difficult to buy Western/Chinese/S. American ingredients and spices. He will try to post some quick Indian recipes for the adventurous (do let him know). As far as his music goes, he listens to a lot of 60s rock and blues.
Here are samples of Pradeep Mané's poems.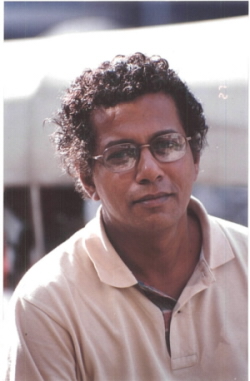 Please contact Pradeep Mané with your thoughts.
---
03.11.2002
At the outset I would like to thank Scott for inviting me to post the log for this month. Am over awed and a bit apprehensive since my log would be out of the U.S.. I have this resident knot in the stomach (and butterflies too!)when one has to express to an audience in the dark/cyberspace.
To breeze through and unwind the knot here I go on a little bit about myself. I was born in New Delhi and did my schooling in an institution managed by Irish Brothers. As a youngster I was always drawn toward Roman/Greek history and English Literature. However, demands on a secure future wrested me from my passions to graduate with Chemistry as my major. But the sneaky guy in me had me enroll in M.A. (Literature) but once again the looming secure future flung me into one of India's top Business School. This did not work either and I joined a Bank. Thus I have this distinction of being a drop-out twice over. I was a Merchant/Investment Banker for 11 years. Thereafter, was promoter director of India's topmost Registrar firm. The price of working 18 hours a day including Sundays and holidays took its toll and I down-shifted in 1998 and quit the Board. Took time to write poetry, enrolled in Scott's class (remains unfinished), bought a farm and took the family out on a holiday to Eastern Europe ( the first since I got married in 1983). In 1999 my college buddy, who was sick of working in a Company, snared me back into business and here I am running a Company that is in outsourcing.
This log will be a lot Indian in its fabric and I do hope it connects.In India we use the Queens English and therefore, you might find the spellings different. Scott, captain it if it goes off course and thank you once again for the invite.
pradeep n mané
pradeep n mané <deepane@vsnl.com>
USA – Sat Nov 2 17:52:50 2002
---
04.11.2002
Today is Diwali (the festival of lights). In Hindu mythology
Lord Rām came back from a 14 year exile and his subjects welcomed him by lighting up earthen lamps and fire works. Also on this day Laxmi (the goddess of wealth) visits houses. The lanterns have been strung at the windows and I've been receiving incessant telephone calls/SMSs/Emails. The girls are busy cooking sweets. On the threshold they will draw a motif with dry powder colour (this is called rangoli)and string a garland on the door. I'll have to help them tie it up. Through the day crackers will be burst and in the evening & during the night the sound will reach a crescendo. On a more scientific note our ancestors did know of the changing weather pattern since from this day on winter sets in. Further up north, it becomes very cold and here in Bombay, well, there is a nip in the air.
pradeep n mané
Bombay, India – Sun Nov 3 19:04:22 2002
---
05.11.2002
Last night had the upstairs neighbours over for dinner (more of snacking)and then the fire works with the other residents of the building. Around midnight drove down to my partner's house to wish his parents and family. Reached home at quarter to two. Got up early today. My wife, daughter and maid are asleep and here I am checking my messages. Nowadays I intermittently read the newspaper, today being one of those days. Its the same old thing rehashed. As for India the headlines are invariably of the terrorist killings in Kashmir, political machinations and the glory of governance. My stomach churns. And elsewhere you have Mr. G. Bush swashbuckling (better still – gunslinging) as if the world is the wild west. I was reading an article in The Guardian by Woody Harrelson titled "Tired of American Lies" which encapsulates the Bush ( he calls Bush Jr. as Shrub) mindset. India has an overdose of its own Bushes. Maybe thats what democracy is all about. No questions asked.

pradeep n mané <deepane@vsnl.com>
Bombay, India – Mon Nov 4 18:51:50 2002
---
06.11.2002
I've got this habit of composing my poetry in the head when I snuggle into bed and forget it next morning, other times I keep scribbling on pieces of paper. There are times I need to have space, yes, the physical space and my work not elbowing me. It gets me crazy that just when I start to write down, the phone or the door bell rings. I tried carrying a dictaphone but it did not help either. Wish my brain could speak. Trying to write a poem on meeting an old friend, on a cup of coffee, after 23 years. It just isn't settling down. I know I've got it and then when I try writing it down it vanishes. Feelings + thoughts and then words how do I weld them?

pradeep n mané
Bombay, India – Tue Nov 5 18:08:00 2002
---
07.11.2002
I was rummaging through my papers (spring cleaning?) and came across a file I had abandoned – my forays into submissions, publishing, poetry circles etc.. And I've had frustrating experiences. My first brush in this direction started by getting my poems copyrighted. For this purpose I had constituted a Trust in my daughter's name with my wife and my Chartered Accountant as Trustees. All the poems I had written till 1998 were to be copyrighted. I then caught hold of a lawyer who would do it for me. She asked me to get the poems bound as a book. Luckily, I knew a printer who did it for me (so my poetry is bound!). Then the form was to be filled up. Well, the office for copyrights is in New Delhi. The documents were sent and then started the process. In India, very rarely, anything happens in the government without bribes. The lawyer knew my aversion to this practice and camouflaged this as out-of-pocket expenses for herself. It took me 7 months to receive the copyright certificate. I guess I did copy the lawyer right.

pradeep n mané
Bombay, India – Wed Nov 6 19:28:16 2002
---
08.11.2002
Last night was listening to a band called Badfinger and a song of theirs "Perfection". Incidentally, last Tuesday night downloaded a website on Che Guevera and read through it offline and on last Thursday night watched a movie on cable "Legend of Bhagat Singh" (an Indian revolutionary executed by the British). And wondered how many in India were galvanised to fight the tyranny of emergency imposed by Indira Gandhi in 1976. Unlike Che and Bhagat the leaders of the 1976 movement today live in opulence without a trace of feeling for the poor or the oppressed. Well what's Badfinger got to do with it – one of the line in the lyrics goes "there is no good revolution, just power changing hands". Got me thinking – its so true today.

pradeep n mané
Bombay, India – Thu Nov 7 18:40:22 2002
---
09.11.2002
Yesterday, was a busy one. A client dropped in the morning and left late in the afternoon with a working lunch thrown in. I had decided to write a poem but when I reached home had guests drop in. The poem remains in my head and I hope to pen it down tonight. I have always had this problem about writing western style having had Indian influences. Hindi poetry is by and large direct with metaphors and rarely interpretative. I am somehow averse to abstraction since I believe I am a kind of landscape poet. And well the interpretation remains my prerogative. Time and again readers from the western hemisphere have opined "leave it to us to imagine" and that hasn't jelled with me. Well there is a lot more climbing up the learning curve I guess.

pradeep n mané <deepane@vsnl.com>
Bombay, <–Select –> India – Fri Nov 8 19:14:05 2002
---
10.11.2002
Saturday night is the night for a good drink and for myself (we work Saturdays).Thought I'll start on my poem. Heck! it doesn't happen that way. Instead, sat down to watch a movie "Crocodile 2" cause my daughter wanted to see it. Halfway through she decided she did not like it and walked out. Darn! missed watching Oliver Stone's "Doors" on another channel. I was infuriated and if that wasn't enough my client called up at 11.45 P.M. to be in office tomorrow at 10 A.M. And when things go bad they don't stop – woke up at 3.45 in the morning – couldn't sleep at all! It gets me mad not to be to myself!!

pradeep n mané <deepane@vsnl.com>
bombay, India – Sat Nov 9 17:42:47 2002
---
11.11.2002
Came back from office by 12 noon and my friend came over for a beer. In India there is only one Pilsner beer. Lagers aggravate my acidity. Well, back to our talk. He was talking of a police encounter i.e. when a gangster is killed by the cops. In this instance a friend of his was an eye witness. Two cops and a young guy came out of a beer bar mid-afternoon and the cops threatened to shoot him if he didn't run. The moment he did they shot him in the back and killed him. No Indian Don Corleone has ever got killed and all of them live abroad. The lackeys are shot. And no cop ever gets hurt in such encounters where as per police reports the guy is heavily armed. This tactic has snowballed into a major controversy since the Delhi cops, a week ago, have claimed to shoot down 2 terrorists while the only witness says they were cold blooded murders. So much for human rights. How cheap life is in the eyes of governance? After hearing this the beer didn't help either.
pradeep n mané <deepane@vsnl.com>
Bombay, India – Mon Nov 11 03:57:42 2002
---
12.11.2002
Read this precise poem. Thought I'd share it with you all. Still working on my poem – on the 4th. draft.
GIVING THE FINGER
It's the wrong animal
to shoulder so much anger and attitude,
this small flightless bird hovering
in the hands of football fans,
on playgrounds, at the movies, after every word
has already been said between lovers,
even perched above the sun roof
of a car merging into traffic, in lieu of a blinker,
shaking a little for emphasis,
so slender and awkward it's hard to believe it means
what the driver wants it to mean,
like being threatened with a butter knife.
Matt Yurdana
The Massachusetts Review
Volume XLII, Number 3
Autumn 2001
Copyright (c) 2001 The Massachusetts Review, Inc.
All rights reserved.
pradeep n mané <deepane@vsnl.com>
Bombay, India – Tue Nov 12 02:33:42 2002
---
13.11.2002
My daughter's school opened after Diwali vacations. Mornings I've this duty to sit by the window sill and wave out to her as she boards her school bus. And then the calls come through in the rush to office. Breakfast is a slice of papaya, glass of low fat milk and a lotsa tea. My wife leaves early in the morning. We have a housemaid who takes care of the home in our absence. Lost in my thoughts and frustrated at being uninspired to complete the poem I get into the car and my driver wishes me "Good Morning!". I wonder that I haven't seen mornings for so many months. Aren't flats like cages?
pradeep n mané <deepane@vsnl.com>
Bombay, M.S. India – Wed Nov 13 06:33:31 2002
---
14.11.2002
Submissions to magazines and poetry journals is a labourious task. Choose the poems, get them typed (some want double spacing), print the envelopes, enclose SASEs and mail them. Most times one doesn't even get a reply and if one does it is the rejection slip. I've quite a collection of these. I then started entering poetry contests. In India there is the Poetry Society of India in New Delhi and they've an annual contest. The one that I entered for was in collaboration with The British Council. The winning poems are published in their publication. But beyond that the poet has to traverse all alone. I tried entering foreign poetry contests e.g. Poetry.org, Sparrowgrass etc.. which doesn't help much and also that the expenses are prohibitive and foreign exchange in India is tough to obtain. So now I've submitted to my failure with fortitude.

pradeep n mané <deepane@vsnl.com>
Bombay, India – Thu Nov 14 05:05:34 2002
---
15.11.2002
Almost a month ago 5 men belonging to the scheduled castes (untouchables/lower caste)were lynched in northern India. All for skinning a cow which they have been doing for ages. The rise of fundamentalism in India is nauseating. These blokes don't even know the meaning of Hinduism. And we all talk of eastern wisdom and calm. Bullshit! India still has places where the lower castes can't venture to. Reminiscent of the Klu Klux Klan (we have many of these Byron de la Beckwiths here) and India talks of apartheid. The Government is allergic to Amnesty International and most States don't have a Human Rights Commission. A Supreme Court judge in India, 40 years ago, said the dirtiest goons are the cops and thank the Government we can recognise them since they have uniforms. Politicians are not any better and have an advantage – no uniforms. Why am I rattling all this. There is movie on Rosa Park today evening and am looking forward to it. "I have a dream…."
pradeep n mané <deepane@vsnl.com>
Bombay, M.S. India – Thu Nov 14 19:38:30 2002
---
16.11.2002
Sat last night listening to music. Pleasantly drunk(?) heard songs composed with friends. I have written most of them, sung (actually croaked) some but did enjoy composing them. I remember it was late nights, early mornings, frustrating getting the chords/ fitting words, dinner at the airport café (the only affordable place open thru the night), laying tracks and then drained out. And as the sun rose the driver dropping all of us home. The lead guitarist plays one of the finest blues and is an adept bottleneck guitarist/harmonica player, the bassist/vocalist a well known guy on the Bombay music scene , the drummer is the one who plays hookey a lot (dropping in & out) and the keyboardist/vocalist is the lead guitarist's wife ( she plays drums as well) and has an album to her credit . But all of them work for a living so do poets. Don't all creative people?

pradeep n mané
Bombay, M.S. India – Fri Nov 15 19:25:23 2002
---

17.11.2002
Last night got to cook. The dish was "Paneer Bhurji" translated "Scrambled Goat Milk Cheese". This is how its made :
Ingredients :
250 g Paneer crumbled. (If you want to make Paneer this is how it is done. Take 1 lt milk boil it and add curd to it. When it has curdled. Cool it. Sieve through a muslin cloth (or colander) to remove the whey). You can put it the refrigerator for use later.
1 green capsicum (bell pepper) sliced
1 onion sliced
1 tsp chopped coriander (parsley) leaves
Cumin seeds
Asafoetida
Black pepper
Salt
Butter
Method :
1.Put butter in a pan
2.Add cumin seeds till they splutter
3.Then add a pinch of asafoetida
4.Put the sliced onions and sauté till glassy
5.Once the onion is glassy add capsicum and fry till limp but crunchy (If you like it spicy you can add chopped green chilly)
6.Add the crumbled cheese and quick sauté
7.Drizzle pepper with a mill and mix salt
8.Before serving sprinkle the coriander leaves
9.Bon Appetit!
This is one of the milder variant of an Indian Paneer Bhurji.
Cooking is my way to escape the daily travail. Isn't cooking like writing poetry?

pradeep n mané <deepane@vsnl.com>
Bombay, M.S. India – Sat Nov 16 20:41:43 2002
---
18.11.2002
Went to the farm in the morning. Ben & Raëll, the farmhands and their children Rochelle & Neil stay there. We had a quick brekker of omelettes and went around the farm checking the plants, trees and the fowls. In June the river had overflown and inundated the farm. The eroded land is being reclaimed by soil filling. The guys doing this came over and had gin and lime with them. The lunch was tandoori chicken, rice pulao with papad, pickles, chutney ( Ben makes them heavenly) and raita. A quick nap and then it was time to go back to Bombay. We made it in time to check out on one of my bro and go for a play R&J, a modern adaptation of Shakespeare's Romeo & Juliet, against the backdrop of the Hindu and Muslim strife in India. The classical English snapped my mind into structuring a poem that's been in my head for the last couple of years. I am sure I'll pen it down this week.

pradeep n mané <deepane@vsnl.com>
Bombay, M.S. India – Sun Nov 17 21:45:31 2002
---
19.11.2002
In the continuing saga of the failed poet my next step was, with a liberal derring-do, to look out for publishers. There was this carousel, once more. I wrote letters to all almost all the publishers. Regrets, more regrets and some more. It went on. There were some who referred me to other publishers, some said their quota of poetry was full up (get lost! they meant), one even told me poetry doesn't sell and the only ones left were out a make a quick buck "baby! why don't you fund it" they said (ha! ha!). I wrote to those publishers that advertise on the last pages of Newsweek and they sent me cute letters explaining the publishing scene, marketing strategies, their printing expenses and yes Sir! all this with my money.

pradeep n mané <deepane@vsnl.com>
Bombay, M.S. India – Tue Nov 19 19:01:24 2002
---
20.11.2002
My daughter couldn't sleep the whole night since she had toothache. Rashmi, had to take leave to take her to the dentist. I have an important meeting today. Shall write the poem structured with classical English tonight and check out whether i can write at all.

pradeep n mané <deepane@vsnl.com>
Bombay, M.S. India – Tue Nov 19 19:11:03 2002
---
21.11.2002
A poem by Arun Kolatkar ( a fave of mine ). And Jejuri happens to be my ancestral village. I like the metaphors and the comments interwoven in this poem. Enjoy it as much as I do.
A Scratch
what is god
and what is stone
the dividing line
if it exists
is very thin
at jejuri
and every other stone
is god or his cousin
there is no crop
other than god
and god is harvested here
around the year
and round the clock
out of the bad earth
and the hard rock
that giant hunk of rock
the size of a bedroom
is khandoba's wife turned to stone
the crack that runs right across
is the scar from his broadsword
he struck her down with
once in a fit of rage
scratch a rock
and a legend springs
© arun kolatkar
All rights reserved.

pradeep n mané <deepane@vsnl.com>
Bombay, M.S. India – Thu Nov 21 02:16:00 2002
---
22.11.2002
The thing to do, after having failed to publish, was to get to know like minded people – those who write poetry and those who appreciate poetry. A lady, who had a few cuisine books published in her name, formed an association of writers and had it registered as a trust. I was one of the earlier members of the Association. We had a few meetings and then the packaging started; contributions, poetry contests that lead to nowhere, an anthology where the deal was that the published poets will off-take a minimum number of books at a price and so on and so forth. Yuck! I did not want to partake any of this and walked away.

pradeep n mané <deepane@vsnl.com>
Bombay, M.S. India – Thu Nov 21 17:26:48 2002
---
23.11.2002
My batch mates from State Bank have an egroup on which various things are discussed and information parted with. One of my batch mates plays the role of Lord Montague in the drama R&J (Romeo & Juliet) and taking off from there another batch mate, who now teaches in the U.S., contented that it is sheer foolhardy to commit suicide and one should learn to come to terms with life. Loneliness being the major trigger in taking this drastic step. I've been thinking about it and while we can all handle being left alone I believe what is most difficult to endure is silence. Imagine a silent day/night on a deserted highway/shack and the need to communicate. Think I'll write a poem on this.

pradeep n mané <deepane@vsnl.com>
Bombay, M.S. India – Sat Nov 23 03:35:53 2002
---
24.11.2002
I thought I'd post the Sunday log today since we have guests coming over and lest I forget in the chaos. Sunday brekker is normally my preserve and I make a fusion dish. My mum's treatment of leftovers and a normal fare. Here I go –
Ingredients :
1 loaf of bread ( preferably a day or 2 old )( remember the leftover!!)
1 medium size onion diced
1 medium size tomato diced
15 sprigs of coriander leaves finely chopped
½ teaspoon cumin seeds
a pinch of asafoetida
¼ teaspoon red chilli powder (cayenne)
1/8 teaspoon turmeric powder
1 cup of peanuts (with skin) fried brown
1 tablespoon oil
salt according to taste
eggs
1 Slice bread into ½ inch squares
2 Take oil and heat in a wok
3 Put cumin seeds in oil and let them splutter
4 When they turn brown add asafoetida
5 Add onions and fry them till glassy
6 Add tomatoes and turmeric powder with chilli powder and fry till the tomatoes are still moist
7 Add bread and blend with tomato/onion mix taking care not to make it mushy
8 If bread is old sprinkle some water
9 After bread is throughly mixed remove from fire and sprinkle salt and chopped coriander
10 Make scrambled eggs
Serve the bread sprinkled with the fried peanuts with scrambled eggs, grated cheese, sausages, hash brown potatoes and if desired with grilled tomatoes & sliced fried onions.
And ah! don't forget the pepper mill, tabasco/tomato sauce and the English mustard sauce, if desired. Good day!

pradeep n mané <deepane@vsnl.com>
Bombay, M.S. India – Sat Nov 23 03:44:17 2002
---
25.11.2002
Now was the time to do the social circle. One of the places that I haunt to listen to music is a place called "Not Just Jazz by the Bay". Quite a happening place in downtown Bombay. In my sojourn out there I came to meet the editor of the magazine section of one of India's leading daily. She went through my poems, invited me to her show – she did play a lot of 60s music with her band ( remember Harry Nilsson's "Everybody's Talking" ) and we exchanged e-mails. Then one day she was reading out her poetry at a select gathering of various creative people and invited me to it. I met a fashion designer, a movie director, a newspaper editor – all well known in India and very big names and my guitarist friend who played with The Wailers. I was introduced to the convener, who took my poems, with a promise to invite me. I am still waiting for her call…………………

pradeep n mané <deepane@vsnl.com>
Bombay, M.S. India – Sun Nov 24 16:32:44 2002
---
26.11.2002
I completed writing 2 poems this month and am working on the 3rd. one. There are times when I can't write even though the poem orbits my head but sheer ennui prevents me from penning it. Other times I go screeching through writing the thoughts as they come. I still remember having written 6 poems in 1 night in 1999. I wonder what is that that drives me to write poetry. Is it my introvertness? my angst? my poor communication skills? my being a dreamer?
I wouldn't know. I did one of those free internet I.Q. test where I got a score of 127 but what surprised me most was my personality is that I am a poet. How did they know? You can try it at
http://www.emode.com/personality/authorize/register.jsp?url=/personality/compare.jsp#
and I'd be keen to know how many of you were identified as poets. Ciao!

pradeep n mané <deepane@vsnl.com>
Bombay, M.S. India – Mon Nov 25 19:49:04 2002
---
27.11.2002
Remember my post of 6th instant where I mentioned trying to write a poem on meeting a friend after years. here it goes
the chalazae trust
the wave of hands as if
erasing the gap of years. he seemed
to be wiping the erosion of time
from his brow. those crow feet
nesting at his eyes
did not crowd the compassion.
and as i strode towards him
the years in between welded
together.
we walked across
to our adda. the roadside tea shop.
a soft breeze ruffled his hair
and stole into the recess of school years
as the milk met the tea
and mingled in the anticipation
of the bonding.
and a helping hand made it strong
as the spoon coaxingly whirled the sugar,
something to cherish
those brief 6 years of youth.
bubbles breaking surface
breaking heart as
we lost what we thought we
had learnt.
and we dipped into the lost years
each sip by sip
updating, wondering, sharing,
caring
each mirth
every suffering.
the years-in-between drained
from the cup.
and we looked at eachother
clasped our hands
hugged
and parted
carrying the tea.

pradeep n mané <deepane@vsnl.com>
Bombay, M.S. India – Tue Nov 26 21:06:01 2002
---
28.11.2002
In my quest to hone my poetry ( asides of a failed attempt at M.A. Litt. ) was to search around to joining classes where they teach to write poetry. None in India. So I started surfing the net nights on end till I landed at this site called Albany where I posted my poems for critique. And then that blessed soul – our very own Scott invited me to one of his workshops. A ray after a trudge of almost 20 years. The one month workshop was amazing. The confluence of various thoughts & cultures and the interpretations, skills and craft had a profound influence on my writing style. However, as in my post of 09.11.2002, I have this Indianess creeping in my poetry.

pradeep n mané <deepane@vsnl.com>
Bombay, M.S. India – Wed Nov 27 14:54:50 2002
---
29.11.2002
A day left for the log to get over. It was a good feeling to share my being with people I haven't met. Did I open myself too much to be vulnerable? After all my thoughts have been read! But then they all sure share something with me. Maybe their silence? And what the hell I wrote what I felt was my cerebral whirligig and if anyone did think I mirrored some of their thoughts then aren't we all of the same clay?

pradeep n mané <deepane@vsnl.com>
Bombay, M.S. India – Thu Nov 28 18:08:34 2002
---
30.11.2002
With the rise of right wingers in India the confusion that goes on in a sensible person's mind is shared by quite a few of my friends but there are others who have this nebulous (flatulent) view. The more I see the world today the more isolated and sad I feel. I studied in a Christian school and know a bit more of the Bible, I am more comfortable in English than in Hindi, I listen to a lot of rock & blues than Hindi music, I watch a lot of English movies and never have I felt a less Indian. What scares me today is that this universalism that binds me to every human on earth is being schismed, chiseled by the arrogance of governance, the diktats of religious bigots, the rabid fervour of politicians and the progressive decay of values. I am trying to live my life as a human bereft of nationality, the patriotism defined by lines on a map, the vulgar conceit of colour, the snobbery of wealth etc.. and while I feel islanded I am comforted when I see some people in minority, you my poets, living without borders and walls. It was quite an experience writing this log and I sincerely thank Scott for this opportunity and you all for reading it. Good Bye !

pradeep n mané <deepane@vsnl.com>
Bombay, M.S. India – Fri Nov 29 19:01:42 2002